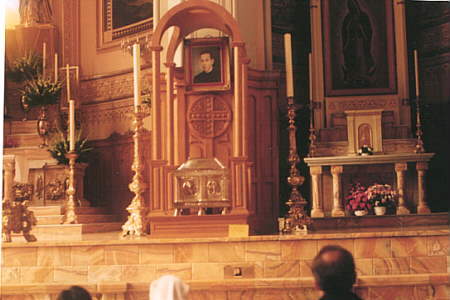 This picture was taken at Holy Family Church, Col. Roma in in Mexico City. The relics of Bl. Miguel Pro, a Jesuit priest, are displayed along side the main altar in this Church. They were recently moved from the side altar, which is considered a bold move, considering the persecution that is still rampant in Mexico. Religious are still not allowed to wear their clerical robes in public, although some take the chance.
The side altar to the right is for Our Lady of Guadalupe.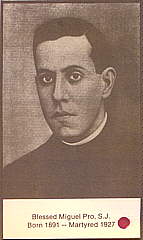 This is a 3rd class relic that is available from ProVision, 4906 Hwy. 6 North, Houston, TX 77084.
This non-profit apostolate is the official group promoting Bl. Miguel's cause for canonization. A small donation is requested, and other devotional materials are available.

Saints Alive! home page
Saints Alive! home page Part 3
Relics of other Mexican Martyrs

Last edited September 5, 1997