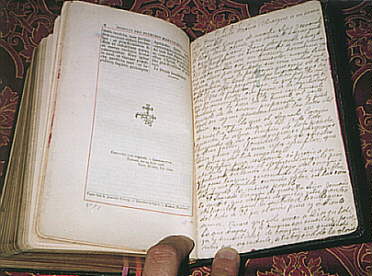 This is a breviary once owned by Bl. Jose Maria Robles. Born in Mascota (Jalisco) Mexico on May 3, 1888, he was ordained a priest for the Archdiocese of Guadalajara, Mexico on March 22, 1913. He was martyred on June 25, 1927 as he was preparing to celebrate Mass secretly during the persecution on the Church under President Calles.
Notes in the breviary above are on the subject of the Sacred Heart of Jesus. He is considered an Apostle to the Sacred Heart of Jesus.
Other Mexican priests recognized as Blessed in the Church are Bl. Cristobal Magallanes & Agustin Caolca: Beatified in 1992, they built a seminary in Totatiche, Jalisco.
Bl. Justino Orona & Atilano Cruz. Their deceased bodies layed exposed in the front of a parish Church for hours before burial.
Bl. Toribio Romo & David Galvan. In Tequila, Jalisco, Mexico. Bl. Toribio celebrated the sacraments before he was finally caught.
Bl. Tranquilino Ubiarco & Sabas Reyes operated in Tepatitlan, Jalisco and were executed.

Back to Main Home Page
3rd Index Page of Relics
4th Index Page of Relics
Photos courtesy Fr. Richard Flores.

© 1997, Saints Alive!
last edited July 17, 1997