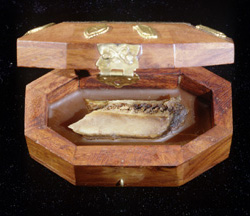 ST. TARCISIUS: Deacon-Martyr

ST. TARCISIUS: Deacon-Martyr
This large relic ( 2 1/4" x 1" ) is from the lower arm of St. Tarcisius. The arm, from wrist to elbow, was in the possession of a group of very old Nuns in a convent just outside of Quebec, Canada. They are the last members of their congregation. With the thought of the eminent end of their community, they begin to look for a safe place for some of the precious relics. This relic came to the Mother of God of Kazan Monastery wrapped in tissue, covered in cloth, stating in a short note that they were sending it to a place and a people whom they consider will still venerate these holy relics. This relic was a gift to Saints Alive from the Monastery.