Biographies of the Newly Beatified Servants of God
Bl. Rita Dolores Pujalte & Bl. Francisca Aldea suffered death for the Catholic faith during the Spanish Civil War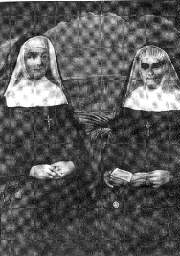 Bl. Rita Dolores Pulalte Sanchez was born in Aspe, Spain, on 19 February 1853. Her parents, Antonio Pujalte and Luisa Sanchez, gave her and her four siblings a deeply Christian upbringing. As a young girl she was a model of piety and apostolic activity: she belonged to the Daughters of Mary, the Third Order of St Francis, the St Vincent de Paul Society, and was a catechist as well. In 1888 she entered the Sisters of Charity of the Sacred Heart of Jesus and took her temporary vows two years later. Highly esteemed by her community, she was given positions of responsibility, and the foundress, before dying in 1899, recommended that she be elected Superior General, which the community did in 1900. Mother Rita served as Superior until 1928, when she retired to devote herself to prayer and recollection at St Susanna's College in Madrid.
Bl. Francisca of the Sacred Heart of Jesus Aldea Araulo was born in Somolinos, Spain, on 17 December 1881. Orphaned at an early age, she was accepted as a boarding student at St Susanna's College in Madrid, which belonged to the Sisters of Charity of the Sacred Heart of Jesus. At the age of 18 she entered the institute's novitiate and made her temporary vows in 1903. She was assigned to teaching and fulfilled this task with great dedication until 1916, when she was elected assistant and, later, general secretary. She was at St Susanna's College when the religious persecution began.
Their martyrdom
On 20 July 1936 the revolutionaries attacked St Susanna's College, battering the doors and firing shots. All the sisters, aware of the danger, were praying in the chapel: they had recited the Rosary and were commending their souls. The superior asked the soldiers to allow Mother Rita, aged 83, blind and infirm, and Sr Francisca, ill as well, to leave. The two religious took refuge in a nearby flat. Two hours later a group of armed revolutionaries dragged the two elderly sisters down the stairs, put them in a car and took them to a Madrid suburb, near the town of Canillejas, where they made them get out and then shot them.
The next day the doctors performing the autopsy were astonished that the bodies were not stiff and were emitting an indescribable perfume. When the bodies were exhumed In 1940 to be taken to the Almudena cemetery in Madrid, the doctors and other witnesses said that the bodies were still flexible and retained the colour of a living person. Given their reputation for holiness, in 1954 their uncorrupted bodies were taken to Villaverde, near Madrid, and put in the chapel of their institute's college.
Visitation nuns joyfull faced martyrdom for Catholic faith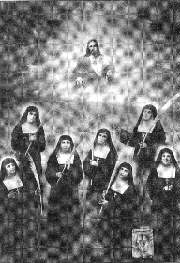 The following seven blesseds were born in Spain: Bl. Maria Gabriela de Hinolosa Naveros, on 24 July 1872 in Alhama, Granada; Bl. Josefa Maria Darrera Izaguirre, on 23 May 1881 in El Ferrol, La Coruna; Bl. Teresa Maria Cavestany y Anduaga, on July 30 1888 in Puerto Real, Cadiz; Bl. Maria Angela Olaizola Garagarza, on 12 November 1893 in Azpeitia, Guipuzcoa; Bl. Maria Engracla Lecuona Ararnburu, 2 July 1897 in Oyarzun, Guipuzcoa; Bl. Maria Ines Zudaire Galdeano, on 28 January 1900 in Echavarri, Navarre; and Bl. Maria Cecilia Cendoya Araquistain, on 10 January 1910 in Azpeitia, Guipuzcoa.
The six religious came from devout Christian families and were all members of the Madrid house of the Order of the Visitation of the Blessed Virgin Mary, founded in France in 1610 by St.Francis de Sales and St Jane Frances de Chantal.
In early 1936, during the Spanish Civil War, religious persecution was intensified. That same year the community realized the danger of remaining in Madrid and moved to Oronoz, leaving a group of six nuns in the charge of Sr. Maria Gabriela do Hinojosa. By July they were confined to their apartment, where they enjoyed relative peace. However, an antireligious neighbour reported them to the authorities; their freedom was curtailed, their belongings confiscated and arrests followed. Nevertheless, they refused to seek refuge in the consulates to save their lives. Their fervour was stronger than the threat of death, and when their apartment was searched on 17 November, they expressed their desire to die for the faith, exclaiming: "What a joy, martyrdom is not far off!". They spent the night in prayer. The following evening, a patrol of the Iberian Anarchist Federation broke into the apartment and ordered all the sisters to leave. In striking contrast to the noisy mob was the majestic serenity of the nuns. They were taken by van to a vacant area. As they held each other's hand, a barrage of gunfire shattered their bodies, except for Sr Maria Cecilia, who had unwittingly started to run when she felt the sister next to her fall. Moments afterwards she surrendered, declaring herself a nun, and was shot five days later at the cemetery wall in Vallecas on the out skirts of Madrid.