Bl. Maria Sagrario submitted to God's will in accepting death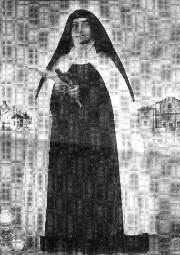 Bl. Maria Sagrarlo of St Aloysius Gonzaga (in the world: Elvira Moragas Cantarero) was born in Lillo, Spain, on 8 January 1881, to Ricardo Moragas and Isabel Cantarero. She was the third child of four. In 1886 her father became the pharmaceutical purveyor to the royal household and the family moved to Madrid. She completed her studies with distinction and was one of the first women in Spain to obtain a degree in pharmacy.
After her father's death, her professional ability became evident. She also became aware of her religious vocation, but, on the advice of her spiritual director and at the insistence of her younger brother who still needed her help, she was obliged to postnone her plans.
In 1915 she was admitted as a postulant to the Carmel of St Anne and St Joseph in Madrid. On 21 December she began her novitiate and received the name Maria Sagrario of St Aloysius Gonzaga. She made her temporary profession on 24 December 1916 and her solemn profession on 6 January 1920.
In April 1927 she was elected prioress and used her mandate to serve the community. In 1930 she became novice mistress and frequently told her novices of her desire to be a martyr. She was elected prioress for the second time on 1 July 1936, two weeks before the Spanish Civil War broke out with a wave of reliqious persecution.
On 20 July the convent was attacked by a violent crowd. She provided for the safety of her sisters and took refuge with one of them at the home of that sister's parents, where she remained until her arrest, despite her brother's pleas that she move to his home. On 14 August the "soldiers" arrested her and the other sister.
Her serene attitude and total surrender to God's will is well-documented by her daughters' testimony. She was interrogated by the Secret police and an effort was made to force her to reveal the whereabouts of the convent's valuables. She resisted the questioning in silence and refused to betray anyone.
On 15 August she was taken to the Pradera of San Isidro and shot. Given the increasing fame of her martyrdom, the process for her canonization was begun in 1962 and closed in 1965. On 8 April 1997 Pope John Paul II approved the decree establishing her martyrdom.
Bl. Nimatullah loved the Eucharist and promoted monastic education
Bl. Nimatullah Voussef Kassab Al-Hardini was born in 1808 in Hardin, Lebanon. From childhood he was strongly influenced by the monastic tradition of the Maronite Church. Four of his brothers became priests or monks, and Nimatullah entered the Lebanese Maronite Order in 1828.
He was sent to the monastery of St. Anthony in Qozhaya, near the Qadisha ("Holy Valley"), for two years of probation. He was initiated into community prayer and manual work, and soon became known for his love of the Blessed Sacrament. He was often found in the chapel on his knees, his arms raised in the form of a cross, his eyes fixed on the tabernacle.
After his profession he was sent to the monastery of Sts. Cyprian and Justina in Kfifan to study philosophy and theology. He was ordained a priest and became director of the scholasticate and a professor until the end of his life. One of his students was St Sharbel.
During the two civil wars of 1840 and 1845 he suffered greatly with his people. His brother, Fr Elisha, suggested he withdraw to a hermitage, but he replied: "Those who struggle for virtue in community life will have greater merit". He was reprimanded for being too hard on himself and too merdful and indulgent towards his confreres. He is said to have remarked: "A monk's first concern, night and day, should be not to hurt or trouble his confreres".
He had a great love of to the Virgin Mary and recited the Rosary every day. He was particulary devoted to the Immaculate Conception and after the Angelus would often say: "Blessed be the Immaculate Conception of the Blessed Virgin".
In 1845 the Holy See appointed him general assistant of the order. He asked the Superior General to send monks to further their studies at the new college founded by the Jesuits in Ghazir. He served as general assistant for two more terms, but refused to be appointed Abbot General: "Better death than to be appointed Superior General".
In December 1859 he was teaching at the monastery of Kfifan, when he was afflicted with pneumonia caused by the bitter cold in that region. His ondition worsened, leading to his death on 14 December. He died holding an icon of the Blessed Virgin and saying: "O Mary, I entrust my soul to you".
Fidelity to Carmelite charism marked Bl. Maria Maravillas
(Picture did not scan well, and so we were not able to present a copy) Bl. Maria Maravillas de Jesus Pidal y Chico de Guzrna'n was born in Madrid, Spain, on 4 November 1891. She was the daughter of Luis Pidal y Mon, Marquis of Pidal, and Cristina Chico de Guzma'n v Munoz. At the time her father was the Spanish ambassador to the Holy See and she grew up in a devoutly Catholic family.
She made a vow of chastity at the age of five and devoted herself to many charitable works. After coming into contact with the writings of St. John of the Cross and St Teresa of Jesus, she entered the Carmelite monastery of El Escorial in 1920. Four years later, Sr. Maravillas and three other religious founded a Carmel in Cerro de los Angeles where she made her solemn profession that same year. The monastery quickly grew and in 1933 she made a foundation in Kottayam, India. From this Carmel other foundations were made in India.
During the Spanish Civil War the nuns lived in an apartment in Madrid. In September 1937 they were able to found another Carmel in the Batuecas (Salamanca).
In 1939 they were able to restore the monastery of Cerro de los Angeles. Even amid enormous deprivation, Mother Maravillas instilled courage and happiness, always being an admirable example to her daughters.
In the following years foundations were made in Mancera de Abajo, Duruelo, Cabmia, Arenas de San Pedro, San Calixto, Aravaca, Talavera de la Reina, La Aldehuela and Montemar-Torremolinos. She then restored and sent nuns to her original Carmel of El Escorial and to the venerable monastery of the Incarnation in Avila. In order to unite the monasteries founded by her and others attracted to them, in 1972 she obtained approval from the Holy See for the Association of St.Teresa.
She distinguished herself by her faithfulness in fulfilling the Rule and Constitutions of the Discalced Carmelites and supported many charitable projects for the poor in Spain. She had a great enthusiasm for the charism of Carmel. By word and example she led a fervent contemplative life in service to the Mystical Body of Christ.
She died with great peace at the Carmel of La Aldehuela on 11 December 1974. She kept repeating: "What happiness to die a Carmelite!".
---
Any typographical errors regarding this article should be addressed to saintsalive@earthlink.net.