The Cross of Ghent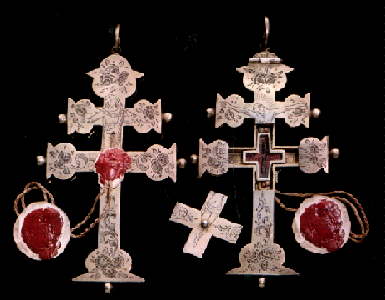 This relic of the True Cross was given to Fr. Godfrey Poage, C.P. by the bishops of the Canadian Roman Catholic Church after the conclusion of Vatican II, for working as their liason during the Vatican II Council. This particular piece of the Cross originates from a larger relic of the True Cross located in Ghent, Belgium.
This photo is a double exposure, showing the front & back of the reliquary.
Below is the same relic in its case.
Fr. Godfrey Poage was Secretary of the Pontifical Office for Religious Vocations under Pope John XXIII. In 1963, Pope Paul VI named him Director. Fr. Poage is also an internationally known author. "In Garments All Red, The Life Story of St. Maria Goretti" is one of his books.

Back to Main Home Page
See Another relic of the True Cross

last edited October 29, 1997