Rescued Relics - I.C.H.R Members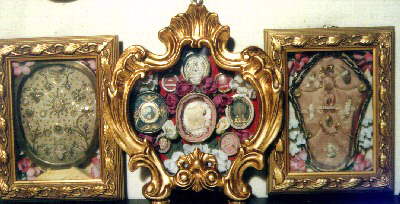 First Reliquary: A largish reliquary from an antique shop in Barcelona. The relics are St. Stephen, protomartyr; and Ss. Catherine, Lucy and Luiteria, Virgins and Martyrs; and Ss. Boniface, Felix, Gervase and Laurence; and the Martyrs of "Calaridis", the location of which I have been unable to establish.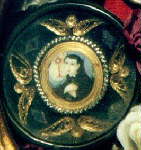 Some Close-ups from the 2nd Group: A good example of a type of reliquary popular in the Naples area: a minature painting of a saint on ivory (in this case, Paschal Baylon) is set in the centre of a reliquary and then surrounded by relics and little bits of decoration. The relics here are: St. Felician, Martyr; St. Felix, Martyr; St. Tiborius, Bishop and St. John-Joseph of the Cross. The labels are pasted up round the side of the capsa and aren't visible in this shot.
| | |
| --- | --- |
| | Another example of the same style. Here the portrait is of St. Philomena and the relics are: the veil of Our Lady, and Ss. Teresa of Avila, Paschal Baylon, Mary Frances, Philomena, Rose of Lima, John-Joseph of the Cross and Clare of Assisi. Other examples of this style of reliquary may be seen in some churches in the Naples area, and there is a picture of one in the Tan book "St. Philomena powerful with God". |
| | |
| --- | --- |
| Seven Doctors of the Church (St. Gregory in the middle and Sts. Ambrose, Jerome, Bernard, Bonaventure, Thomas Aquinas and Augustine clockwise from top). | |
The 3rd Reliquary, from the picture at the top of this page: This reliquary came from an antique shop in Rome and contains martyrs, probably from the Roman catacombs. The relics, all labelled "Ex Os(sibus)" are Ss. Concordia, Amator, Columbanus, Calcedonus, Felix and Mansuetis.
These relics were rescued by Matthew Duckett, Prayer Knight, I.C.H.R.
Some additional comments from Matthew:
"Don't be too hard on the antique dealers, though. I think we should assume unless we know to the contrary that they acquired the relics in good faith, perhaps as part of a job lot at a house clearance or something like that (many of the larger houses in Italy maintain small domestic chapels, often stuffed with relics - if the owner dies without leaving specific instructions it all goes on the market). Some perhaps may be left over from the State seizure of monastic property in 1870. In any case the dealers do not seem to be concerned to make a profit out of the transaction: One relic cost 55,000 lire (about 18 pounds), another 80,000 lire (about 27 pounds). These prices are typical throughout Italy and Spain and haven't gone up as far as I can tell for about ten years.
I should emphasise that it is uncommon to find relics in antique shops, even in the major centres of Italy. My small collection is the result of diligent hunting through hundreds of shops over the past decade. There really isn't a viable market for relics - there aren't enough of them around, and they're not financially valuable - for which we should be grateful. Note that when I acquire relics from antique dealers I always ask "how much is that reliquary" (not "relic") to establish that I am offering to purchase the container rather than the relic - but this distinction is lost on most of them! Perhaps I am being over scrupulous, but there it is. Of course I always make sure that the seal is intact and decipherable."
Back to:

©1998, Saints Alive!
last edited March 17, 1998