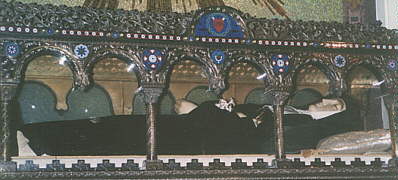 St. Margaret Mary Alacoque
St. Margaret is not incorrupt, although the picture might lead some to believe so. Her relics are kept in a figurine which depicts her features, and are kept in France.
St. Margaret is prominent in our Catholic Faith, as she had been given instructions by Our Lord personally on His wish that His Sacred Heart be venerated throughout the world (Devotion to the Sacred Heart). She was given many spiritual gifts - first of all having many visions of Our Lord, as well as the gift of mystical translation of her heart into His, and visions of His Own Mystical Heart.
St. Margaret Mary was also given a special gift of having as a spiritual director, St. Claude de la Colombiere, whose relic was the intercessor of the miracle that brought him from "Blessed", to "Saint".
Picture courtesy Linda Martin.

Saints Alive! home page 4th Index Page of Relics

© 1997, Saints Alive!
Last edited July 15, 1997