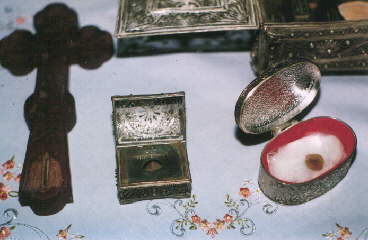 From left to right:
Relic of the True Cross from Mt. Athos.
Relic of 40 Holy Martyrs of Sebaste.
Relic (in oval box) of St. Necktarios of Aiezna (on wax disk).
These relics are located at St. Anthony Greek Orthodox Monastery near Phoenix, Arizona.
Pictured on the right is a Greek Orthodox Reliquary box of various saints. From Holy Dormition Skete in Buena Vista, Colorado.

Pictures courtesy of Fr. Peter Leigh.

Saints Alive! home page Index Page 5

Last edited January 1, 1998