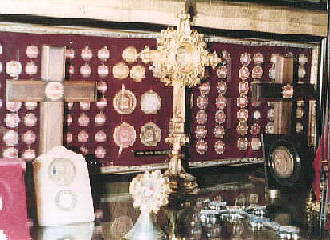 Relics at the San Fernando Mission
In the Archival Center at the San Fernando Mission is a wonderful display of not only several hundered relics of the saints, but several other display cases recalling the early Catholic history of California. Msgr. Francis Weber of the San Fernando Mission, is the author of several books on Catholic history in California. The area around the mission also show displays of early life in California, examples of the nun's quarters, a room filled with statues &
figurines of the Blessed Virgin Mary, and much more.

Some of the reliquaries shown were designed by Thomas J. Serafin, founder of the Saints Alive Relic Apostolate.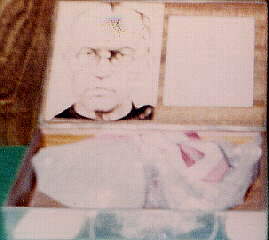 One of the most fascinating (though poorly photographed) relic is that of St. Maximilian Kolbe. Although it cannot be said for certain that these particular ashes (protected in plastic) are from his remains, they were collected from Auschwitz right after the time of his execution.
The San Fernando Mission is located at
15151 San Fernando Mission Rd.
Mission Hills, CA 91345
Call 818-361-0186 for tour hours. There is a small admission fee requested to tour the entire grounds.
Photos courtesy Sarah Gildea.

Back to Main Home Page 2nd Page of Relics 3rd Index 4th Index

Last edited December 12, 1997 (Feast of Our Lady of Guadalupe)